Today, I've decided to start a new running column for the Hydreva website, "Tales From the Garden."
In months and years to come, this new series will be describing outstanding successes from around the world using Hydreva technology – ie: "crystalline structured water" technology – to improve gardening and agricultural yields while reducing water consumption, improving lives and environmental health every step of the way.
Along the lines of "Think globally, act locally," I spent today digging a new garden. Reminds one of the old phrase, "back-breaking labor."
I'll be back at it, tomorrow. I think it'll be worth the effort. The soil here is very rocky. I decided to pull up a lot of expired ice-plant on a slope – that, at present, doesn't serve much purpose – level a 100+ sq. ft. area, surround it by a wall, and create a new garden space. Today was when the fur began flying. The photo above is "before," the two photos below are "after," but it'll get a lot better.
Initially, for Hydreva field trial purposes, I'm creating two beds. One will have chard, cilantro and watermelon treated with Hydreva water. The other will have the same crops using regular water from the same source. I have two spigots set up; one with a Hydreva and the other without. I will measure all water in a pail with lines and administer exactly the same amount to both groups at the same time. Soil conditions are identical. I will also plant tomatoes in two large pots; one getting Hydreva water, the other not. I will take photos weekly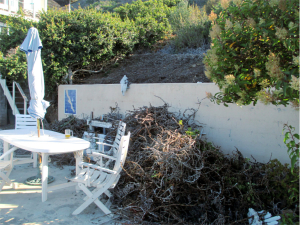 .
I first got involved in this field six months ago. I came across a device based on the discoveries of Victor Schauberger. It moved water through a particular geometry under pressure. This product claimed to both energize and restructure water. Various testimonials made me conclude the technology was for real, and I was intrigued. Months later, talking to an American friend living in Ecuador, I mentioned my interest in this technology. He said that, to his knowledge, the best technology in this field was Hydreva.
My expectation is to see significant yield improvements for the plants receiving treated water; larger and faster growth, higher fruit count and weight. With time, we will be documenting Hydreva's ability to stabilize soil pH and modestly reduce both fertilizer and pesticide use – alongside, of course, documenting water reductions.
Sound too good to be true?
Let me confess: It really does, to me, too.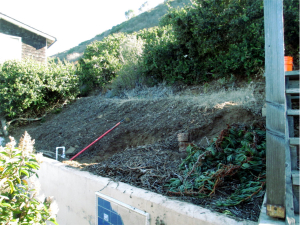 Had I not spent the past six months researching this new field of "crystalline structured water" on a full-time basis, I would also be extremely skeptical. But, it seems science has missed some major points about water, not understanding many of its subtle characteristics. Victor Schauberger – "Water Mentor" to Hydreva's inventor, Ralph Suddath – believed we should not even pump water. He said "mature water" naturally rises to the surface (eg: springs, lakes, rivers). He also believed water quality is intricately tied to the health of forests and plant life. He lived in Europe as "deforestation" really got underway and was depressed by this. His nation, Austria, began clear-cutting to pay for WWI then WWII bills. He lamented that, if deforestation continued, he feared humanity would suffer plagues of … drought.
Is it possible Schauberger knew a few things we might learn from?
Hydreva is a good step in the right direction. We – and others, offering related products or services – will help lift the average quality of human life and environmental health by converted low-quality, "dead" and polluted water across the planet to something much healthier.
I look forward to many happy days working in my new seaside garden, and much wonderful produce coming forth from it. I'm also looking forward to a new day, dawning soon, for humanity and Mother Earth. Together, we can make it happen.